Re-trim Gallery
If you already have a favourite hat but it needs a bit of an update or a bit of repair - then the hat re-trimming service is just what you need.
Here are some examples of previous re-trims.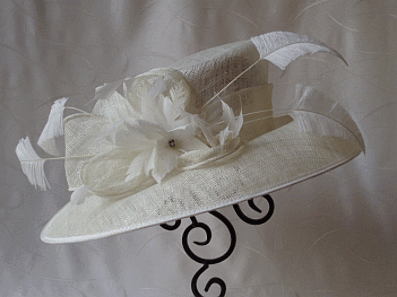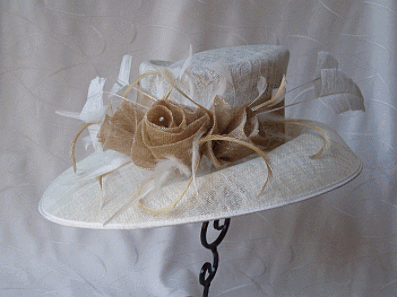 All-over ivory to ivory and barley roses
The all-over ivory colour of the original hat is updated to match the client's new outfit by adding rich barley coloured elements. The hat now has a contrasting wide band of barley sinamay around the crown and the ivory feather trim has been replaced by hand rolled sinamay flowers with diamanté centres. The ostrich feather arrowheads from the original hat have been retained with the addition of slim goose feather curls in the barley colour.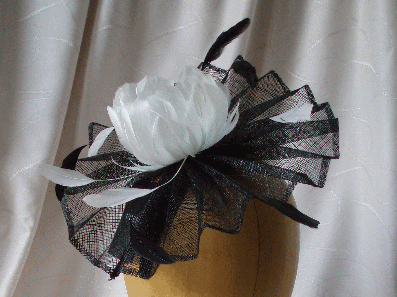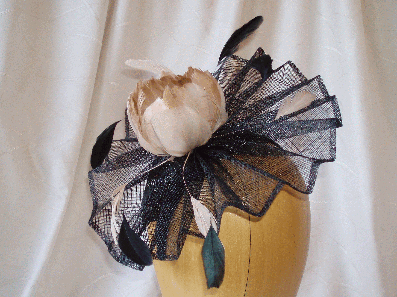 Colour changed on feather flower trim
Here the cream feather flower was carefully removed and replaced with a fawn coloured feather flower, dyed to match the client's outfit. Extra fawn feathers were also added to complete the colour scheme.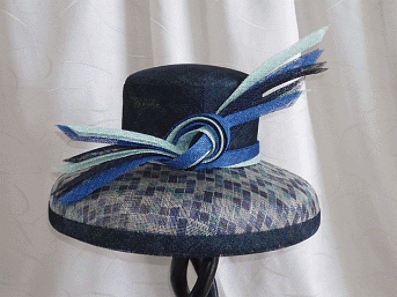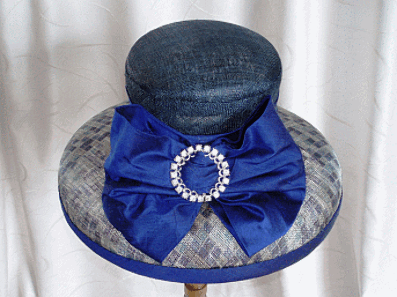 Sinamay knot to big silk bow
On this elegant navy and blue printed sinamay hat, the original trim of a muti-coloured sinamay knot is replaced by a large luxurious silk bow and band around the crown, accented with a vintage diamanté buckle. The edge of the brim has also been re-trimmed in the matching silk.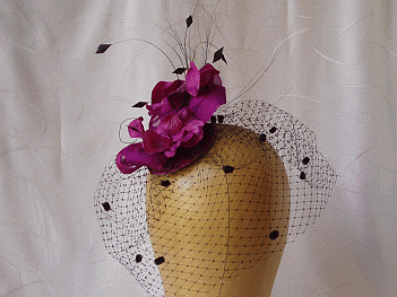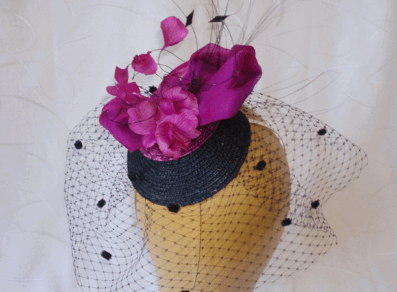 Tiny base on comb to large base with headband
The client found the original fascinator tricky to wear with its small base and comb fitting. The trim was largely untouched but the fabric elements had been flattened over time so were gently reshaped. A bigger black straw base was added to make the fascinator much larger in appearance overall. The comb was replaced with slim gold coloured metal headband, making it much easier to wear and stay in place.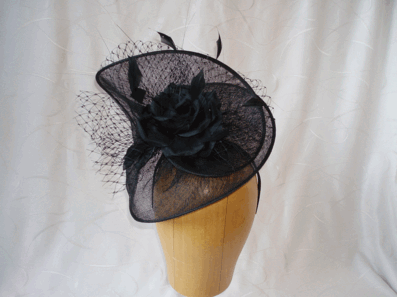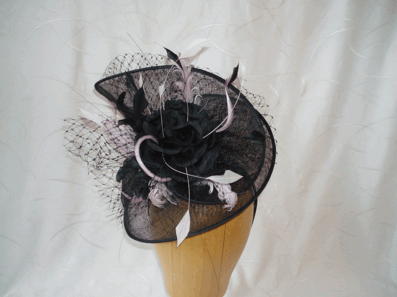 Mixed pink feathers added to all black headpiece
This all black headpiece had a mixture of different types os pale pink feathers added to give it greater impact and to match with the client's outfit. Small changes can make a big difference.
... giving that old hat a new lease of life because Millinery Matters